Since 2013, Jess and I have been working from our home in Suffolk, helping collectors to both acquire and sell some great works of Twentieth Century art. We have also been developing a second line of business, one that developed from our own collecting passion for studio ceramics.

Thus, when we were asked if we might like to present an exhibition in a private residence in London, it seemed a natural step to combine these two areas. Jess and I have worked with the family of William Scott, one of Britain's most important painters in the second half of the twentieth century, for some time and have been privileged to have placed several very important examples of his work into many distinguished collections. Ashley Howard is an exciting ceramicist, but whose work is not terribly well-known outside ceramic circles. We had included his work in a group exhibition we presented in Aldeburgh in 2016 and felt it deserved a wider audience. Both artists have colour and form at the heart of their work and the opportunity to show work from two different generations who work in completely different media seemed to offer a very good chance to compare how they approached these concerns.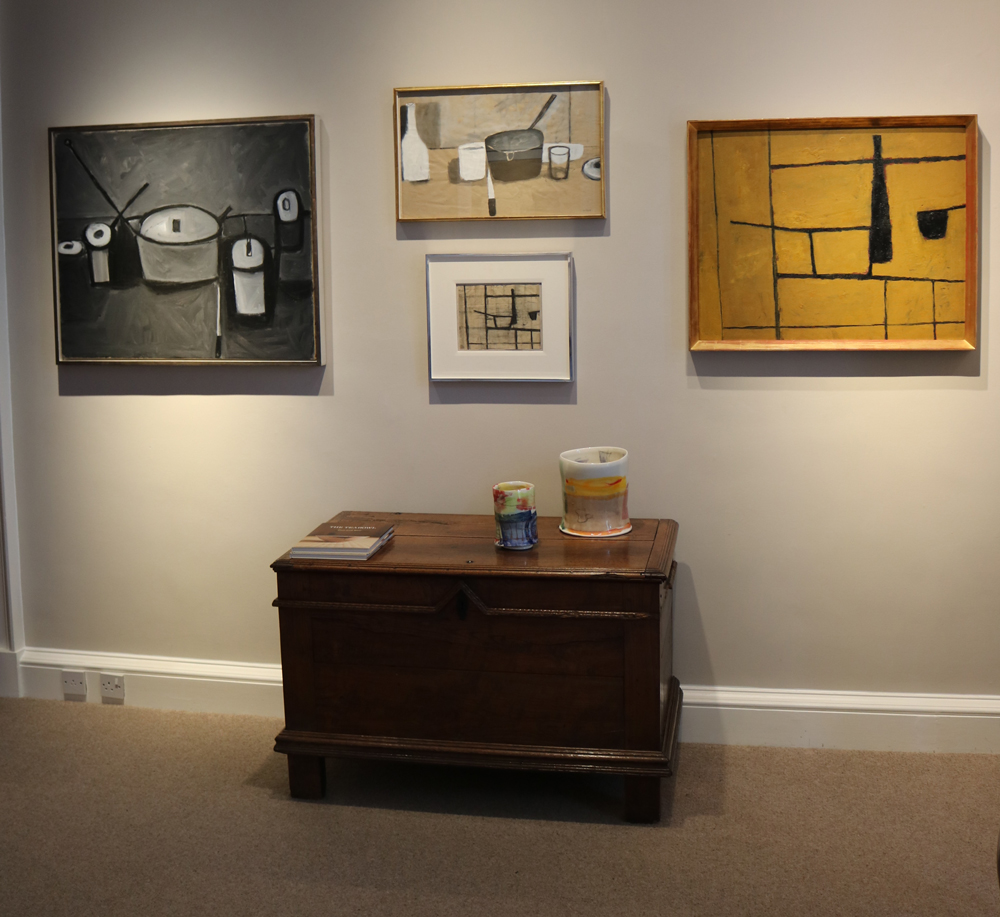 Focussing on the theme of the vessel, we drew together a small body of paintings and works on paper by Scott that covered over three decades of exploration and hung them alongside a display of thirty new ceramic works by Ashley Howard.
The exhibition offered visitors the opportunity to see some little-known works by Scott, including some that had never been exhibited before, at the side of three important paintings loaned from the artist's family. Presented in a more domestic space than the archetypal gallery 'white box', the display also gave visitors a chance to see how the paintings might work within a home environment.
We chose to display Ashley's ceramic pieces on furniture and fireplaces rather than on plinths, allowing them to have a more natural setting within the exhibition and to develop their conversations with each other and the paintings by William Scott.

Having spent the day before our opening hanging the paintings, adjusting the lighting, placing the furniture and positioning the ceramics, we were ready to show the exhibition to our audience, and the preview evening on the 19th September was an enormous success, attended by well over a hundred collectors, curators and enthusiasts. Whilst many collectors are generally familiar with William Scott's work, the range of pieces we exhibited and the focus on the theme of the vessel gave a distinct flavour to the display which was much appreciated, and Ashley's work, which has never been shown in London in a one-person show, was a huge hit. By the end of the evening we had sold just over half of the ceramics on display and had some very positive conversations underway about the Scott works.

To see the pieces we exhibited, follow these links:
Works by William Scott
Works by Ashley Howard

On Thursday 21st September we hosted an 'In Conversation' with Robert Scott, William Scott's son, and Ashley Howard and were joined by Dr Bonnie Kemske, ceramicist and academic. Her new publication, The Teabowl: East and West has developed into a parallel exhibition The Teabowl: Past and Present at the world-famous Leach Pottery in St.Ives, Cornwall, both of which feature Ashley's ceramics. The discussion ranged across several topics, including the use of colour and decoration, the personal narratives in the two artists' work and the interpretation of the theme of the vessel. With some very pertinent questions and observations from the audience, the evening was both illuminating and fun.
Our last day of the exhibition was the 23rd September and we held a morning brunch. Many collectors who had not been able to visit during the week came along to view in a more relaxed way, accompanied by partners and families, including one or two very young future collectors!
It was great to see the response to Ashley's pieces by collectors, many of whom had not seen his work before, and by the close of the show, we had sold 80% of his ceramics. As we hoped, the selection of paintings by William Scott had also been very well received and we were in negotiations on several works; we were especially pleased to be able to place a large and important painting, Permutation - White with Jug from 1980, in a private collection and shortly after the show closed we were able to secure a buyer for the much-admired Orange Segments from 1976.
So, after a hectic and successful week in London, we were able to head home to Suffolk, looking forward to our next ventures and a warm welcome from the J&J Rawlin resident Labrador, Belle!