Modern & Post-war British Art, Sotheby's, 9th and 10th June 2015
The auction season is upon us once more, with the opening action coming from Sotheby's. The auction view looked very well presented, and the general feel of the catalogue was that the selection for the evening section had been quite tight, aiming to keep the quality of the prime pieces high, and with a good level of variety.
There were a number of interesting pieces throughout the catalogue and the sculpture section felt especially strong with examples of work by Moore, Chadwick, Frink, Turnbull and Caro standing out. Amongst the painters, hopes were clearly high for a major piece by Patrick Heron, Lemon into Cadmium - Ochre into Black: April - May 1959 (est. £4-600,000) which had featured heavily in pre-auction publicity and an important and striking L.S.Lowry, The Church in the Hollow (est. £600-800,000) which was the image on the cover of the catalogue.
Being the first in a series of sales can be both good and bad. Collectors haven't yet had the chance to spend elsewhere, but equally, they may well be holding on for pieces in the later auctions. With Christie's a couple of weeks adrift of the Sotheby's and Bonham's dates, you might imagine they could be slightly overlooked, but Christie's very astute decision to put their whole sale on view early to overlap with their Bond Street competition would always mean that buyers had a lot of interesting material to choose from.
The first lot of an auction can be a real test of the mood in the room. Select too lightweight a piece to start proceedings and it can seem a cautious or nervous choice, so auctioneers often like to find a little jewel to get people excited, something that will get bidding going, lessen everyone's apprehension, and perform well against its estimate. Sotheby's rather bravely chose to begin with a group of three works by Cecil Collins, a fine, interesting and somewhat visionary artist. Not a major name, Collins is nevertheless a rather beautiful painter whose invariably small works have an intimate, dreamlike air that repays close inspection and the first of these three, a 1943 oil The Greeting, measured just 10 x 7". A cloaked figure leaving a path against a distant stand of trees, it was heavy with the ghost of Blake and Palmer and was a perfect example of how during the darkest days of WWII British artists retreated into the mythical Romantic past of their forebears. Clearly, the bidders in the room thought so too, and it was pushed along from its quite strong pre-sale estimate of £30-50,000 to a total of £70,000 including premium.
Lot 6 was by Sir Winston Churchill, and illustrated how the market reacts to an artist where the usual rules are suspended. Not a bad painter, Churchill was nevertheless an amateur for whom painting was an escape from weightier matters. Almost always given as gifts, the power of the reputation of the great man, as well as the interest in the recipients, dictates the price much more than is usual. This one, Troops Going to the Front, 1917 was in fact painted in 1927 but its unusual WWI subject and the fact it had been a gift to Churchill's close colleague 'Rab' Butler, no minor political figure himself, saw it really take hold of the bidders' imagination, reaching £461,000, including premium, against an estimate of £150-250,000. In December 2014 Sotheby's had sold a group of Churchill's paintings to great success as part of a larger auction from the estate of Lady Mary Soames, Churchill's younger daughter, and the result for Troops Going to the Front, 1917 does rather suggest that they have reinforced their position at the heart of this unusual but seemingly strong market.
Over the past twenty years, much of the rise in the market for British art of the twentieth century has been down to the reappraisal and re-emergence of those artists working in the post-war decades. Unusually, this sale did not have many pieces by the big names of that generation, and the evening session was lacking such luminaries as Peter Lanyon, William Scott, Roger Hilton, Alan Davie or Terry Frost, and thus the large oil by Patrick Heron, Lemon into Cadmium - Ochre into Black: April - May 1959, was rather alone in flying the flag for 1950s abstraction. I am a great admirer of Heron's work, and there is a very good case that the paintings he was producing in the 1956-1965 period demonstrated some of the most intriguing explorations of the relationship of colour and form in abstract painting in Britain at that time. However, like all periods of great development, some ideas prove better than others and this painting felt, to me at least, to have perhaps too much happening, too much variety of colour. It did however have scale and impact, and the end result of £485,000, including premium, demonstrated that the market for this period of Heron, and British abstraction, remains solid.
As with Churchill, Lowry is an artist with whom Sotheby's have recently been very busy. In March 2014 they offered the collection of the late A.J.Thompson, a devoted collector of Lowry's works and they achieved some fantastic results, and since then have sold a number of very good examples by this perennially popular painter. The Church in the Hollow, the star of the Lowry works in the auction, was a great image, combining everyday street incident with an industrial vista, all tied firmly together by Lowry's compositional skill into a very pleasing painting. With a total price of £725,000, including premium, against a £600-800,000 estimate, it justified its place on the cover of the sale catalogue by achieving the highest price of the auction, and also emphasised how far Lowry's market has travelled. When I first started working in this field in the early 1990s, his auction record stood at just over £100,000. Now, you would need to pay over £6,000,000 to break the current record.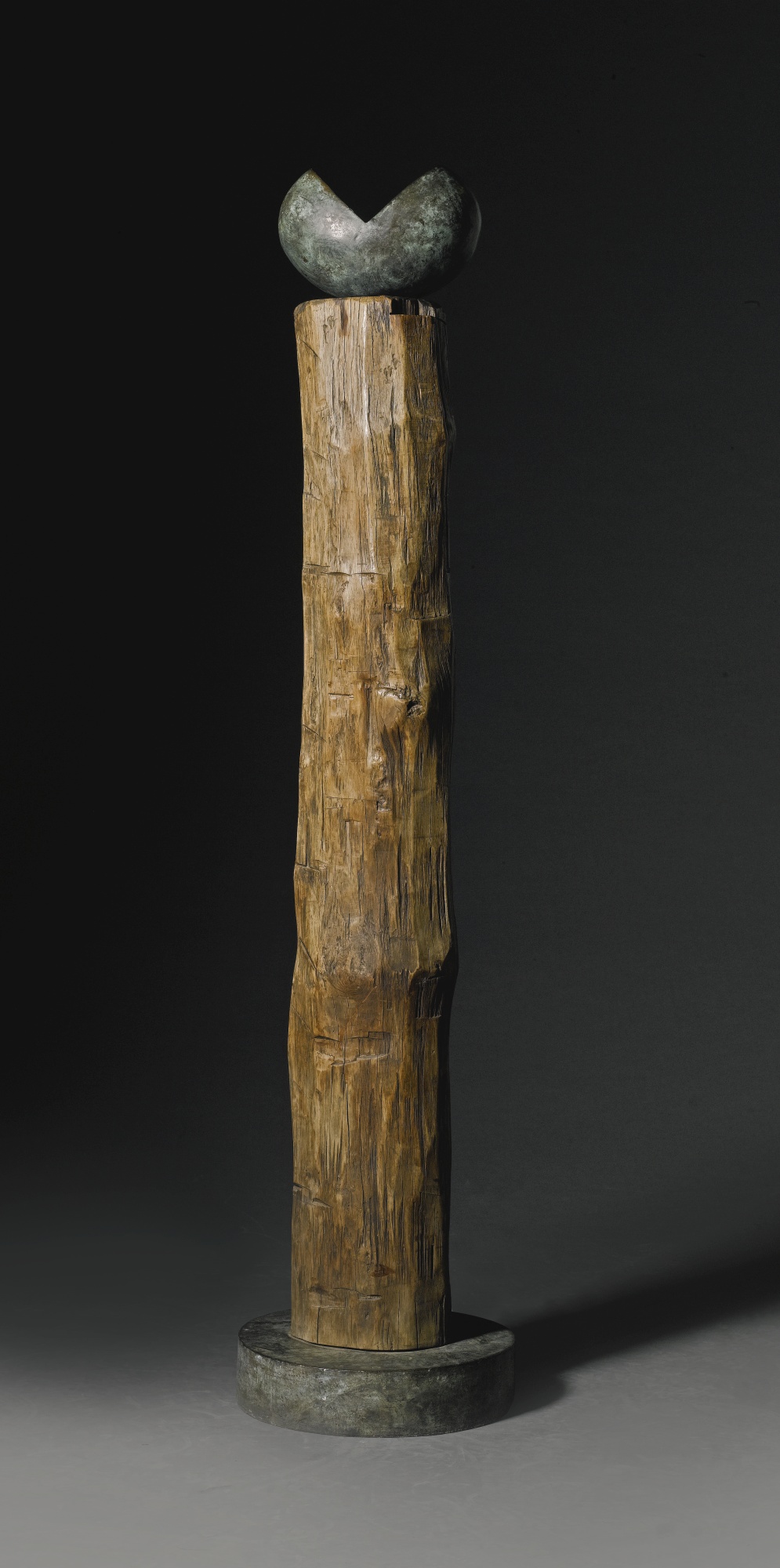 Sculpture featured strongly in the evening session of this auction, and in general performed well. One result though stood out head and shoulders above the rest. William Turnbull's Lotus Totem of 1962 was a unique work that managed to pull off that very difficult feat of apparently standing outside any particular time and place. A rough-hewn rosewood column on a bronze base and topped with a split bronze egg-like form, this was an object that could easily be created yesterday or alternatively be the product of a civilisation several thousand years old. Very rare to find now outside museum collections, these simple yet involving sculptures are key works in Turnbull's output and the collectors recognised this, lining up to bid it up way past its pre-sale estimate of £120-180,000 to set a hefty new auction record for the artist at £701,000.
Thus, the overall results at Sotheby's felt very encouraging and with a healthy total, including premium, for the evening and day sessions of £7,314,750, I would expect the specialists to be relatively pleased.
We now look forward to Bonham's auction on the 10th June, and then what promises to be a very interesting event at Christie's on the 25th and 26th June.