Once the whirl of Impressionist week is over, it's all change for Contemporary. The auction houses have spent a great deal of time, effort and money giving these sales the sense of being 'hip' and a little bit 'street', so you get things like dj's playing sets at private views, funky cocktails and groovy coloured lighting, but of course these events aren't hip all, it's just window dressing for the very serious business of selling hundreds of millions of dollars worth of art to the extremely rich.
The part played by British art in these sales is very interesting, especially in London. Obviously the accurate interpretation of contemporary is of work being produced now, or very recently, and thus the part played by the YBA's of the 90s and 00s is key, especially now so many of them have become such blue-chip names. There's also an elder statesman generation of artists such as Anthony Gormley and Richard Long who have a strong international presence, but then we find an even older swathe of artists that rather belie the 'contemporary' tag. In fact, when we look more closely, the real financial powerhouse to the Contemporary auctions are sales of the artists whose prime period was the 1940s, 1950s and 1960s, the Pollocks and Rothkos, the Warhols and Dubuffets, and for Britain, the Bacons and Freuds.
Therefore, we find that rather than being a stylistic grouping, or even a chronological grouping, Contemporary in auction terms means 'expensive post-war art with some young bloods thrown in for the now factor'. How expensive was demonstrated in both the Christie's and Sotheby's sales.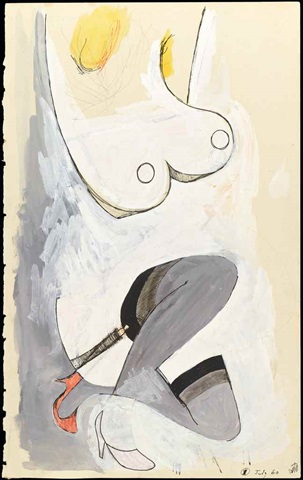 Christie's were up first, with their evening session taking place on the 30th June. British works featured quite strongly, and the artists included who might be seen as complementary to Modern British were Bacon, Hockney, Paula Rego, Malcolm Morley and Richard Hamilton. Hamilton was the first to come under the hammer, with a small 1960 study for his large and well-known 1961 work, Pin Up, now in the collection of MoMA New York. Billed as 'Property from the Collection of Lord and Lady Jacobs', this was a piece fresh to the market by an artist who has increasingly been presented as the precursor of much that is genuinely contemporary, and his early work from the 1950s and 1960s is now both rare and desirable. Given the tempting estimate of £80-120,000, this always looked like it would do well and it soon reached £200,000 (£242,500 with premium).
Lot 8 was a bit of a stray, and was included here presumably as part of the Jacobs collection that yielded the Hamilton. Ben Nicholson's Nov 51 (silver and black) was a rather charming small work, from a great period of his career, and highlighted the rather arbitrary nature of gaining inclusion in this category. Although Nicholson was slightly older than Bacon, and like him flourished in the 1950s, he also had a pre-WWII career that usually links him to the earlier generations, and thus inclusion in either Modern British or Impressionist auctions. However, he is a direct contemporary of Alexander Calder, the maker of fantastic mobiles, and he is firmly ensconced in Contemporary! All very confusing! Anyway, this little piece, estimated at £100-150,000, clearly did not tickle the fancy of the crowd here as it sold, but only just, for £70,000 (£86,500 with premium), representing, I feel, a rather decent purchase for the buyer.
The two works in the sale by Francis Bacon were likely to be substantial pillars of the sale, and so it proved. Lot 24, Two Men Working in a Field of 1971, was a slightly sombre coloured painting, but with some appeal. It had appeared at auction in 2007, being bought then by an Asian bidder for around £5,000,000, and was now apparently bought for a Russian collector. Estimated at £7-10,000,000, it sold for a decent figure of £9,500,000 (£10,722,500 with premium).
The second Bacon work was potentially more interesting. The 1967 diptych Study for Head of Isabel Rawsthorne and George Dyer was a strong piece, and showed two of the most significant figures in Bacon's circle. Set against the vivid emerald green that Bacon often used for the small scale heads of friends, the estimate of £8-12,000,000 seemed in keeping with the current market tastes and it sold for £10,800,000 (£12,178,500 with premium).
Overall Christie's was felt to have slightly less punch than their competitors Sotheby's, and the sale total of just over £95,000,000 was not an especially big one by the standards of their similar offerings in New York. There was a definite air of selectivity demonstrated by buyers, and one senses that the current auction house battles for consignments leading to ambitious estimates had taken their toll.
The Sotheby's auction the following evening (July 1st) was an impressive grouping, with an overall pre-sale low estimate of £142,000,000 and some very good British pieces. Works by Bacon, Freud, Auerbach, Kitaj, Howard Hodgkin, Paula Rego and Leon Kossoff featured, and the three Bacons had a combined low estimate of £45,000,000, putting them well beyond the means of mere mortals, or indeed all but the largest Euromillions winner!
The first piece of interest to us was Hockney's 2008 painting, Arranged Felled Trees. A rather posed composition, I found this a little static, but these recent Hockney works are popular and hard to find, so it was perhaps predictable that competition would drive it along from its pre-sale estimate of £1.5-2,000,000 to a very decent hammer total of £2,900,000 (£3,397,000 with premium).
Lot 6 was a piece that was keenly anticipated prior to the auction. Frank Auerbach's superb 1961 drawing, Head of Gerda Boehm, was a fantastic example of the early drawing style of this increasingly recognised master, and was consigned from the estate of the widow of the poet, Stephen Spender. He had bought the drawing when new from Beaux Arts in London,and it had been exhibited just twice, the last of these almost thirty years ago. Carrying a very low estimate of just £250-350,000, there had been considerable speculation that this could do extremely well, and when the bidding opened even Sotheby's suave auctioneer Oliver Barker looked just a tiny bit ruffled by the waving arms around the room. With lots of activity both in the room and on the phones the price quickly whipped past the million pound mark, establishing a new auction record for a work on paper by Auerbach. It also demonstrated how much input into this market comes from the London-based dealer and advisors who have recognised the value of combining strong British works with a body of increasingly cosmopolitan and international collectors who make London their home, for some of the year at least. Bidders in the room included Pilar Ordovas, Offer Waterman, Alex Corcoran and Chris Eykyn of Eykyn Maclean, the eventual victor.
The final price, of £1,800,000 (£2,221,000 with premium) is not only a record for an Auerbach work on paper, but also the second highest price for any work by him at auction. With a major retrospective coming this autumn to Tate, there may well be more movement to come in his market.
The next lot was probably the smallest in the sale, but its impeccable provenance meant that Lucian Freud's Four Eggs on a Plate, given by the artist to his friend the Dowager Duchess of Devonshire in 2004, would always attract interest, and the tiny 4 x 6" painting also had the kind of 'collector's cabinet' quality we usually associate with the Old Masters. With a very modest estimate of £100-150,000, Barker was once again assailed with bids galore, and the bidding hurtled along, finally coming to rest at £820,000 (£989,000 with premium).
Sotheby's selection of Francis Bacon works was a good deal more interesting than Christie's, and for two of the three lots had that huge auction pull of being virtually unknown to the market. Lot 9, his Self-Portrait of 1975, and lot 10, Three Studies for Self-Portrait of 1980 were both consigned from the collection of ultra-discrete Belgian collector Jaques Casier, and had been acquired as new works and unexhibited since. The Self-Portrait in particular was extremely powerful, and made for a surprisingly introspective image, to my mind benefiting from the lack of histrionic paintwork that can sometimes take over in Bacon's canvases. Estimated at £10-15,000,000, it sold for a very decent £13,500,000 (£15,269,000 with premium).

The following lot was also a strong piece, but considering that the three canvases framed as one were each of the same 14 x 12" size of Self-Portrait, the final hammer price of £13,000,000 (£14,709,000 with premium) tells us exactly how much less impact this trio of images had for the market.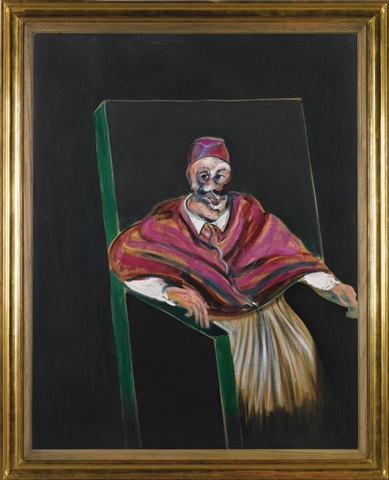 The third Bacon canvas, Study for a Pope I from 1961, was a more familiar piece, having from 1966 until 2005 been in the collection of Gunter Sachs, international playboy and some-time beau of Brigitte Bardot, and sold by him at auction in 2005 with Christie's in New York where it was secured by Dickinson for a client at around $10,000,000. It returned to Christie's last year where it was sold by private treaty and was rumoured to have been consigned to Sotheby's by a member of the Turkish Cingillioglu banking family with a rather ambitious estimate of £25-35,000,000. However, despite the Pope paintings being very desirable within Bacon's oeuvre, this particular example didn't set anyone alight and failed to attract any bidders.
Paula Rego has a chequered past at auction, with some decent prices being outweighed by failures and lacklustre results so for Sotheby's to include two major works at fairly punchy estimates seemed a pretty brave move, especially considering that there has been very little support from the market in her native Portugal in recent years. Thus, whilst the pieces on offer were important examples, there must have been a certain trepidation amongst the specialists. However, buyers responded well, with the first piece, a 1997 pastel, Looking Out, setting a new auction record for her work at £800,000 (£965,000 with premium), and then a sumptuous 1988 acrylic painting bristling with psychological undercurrents, The Cadet and his Sister, instantly making a new high-point, reaching £950,000 (£1,145,000 with premium).
The successes I've noted above by British artists in both the Impressionist & Modern and Contemporary auctions demonstrate not only that these figures can stand side by side with an enormous range of other artists from across the globe, and that their best works are keenly sought out, but also that their inclusion in these auction forums is an important factor in flying the flag for an awareness of British art in an increasingly cosmopolitan and international market. However, the rarified atmosphere and strict 'door policy' of who is included in these auctions can mean that these important figures are becoming gradually extracted from the wider context of British art, potentially leading to a generation of collectors being unaware of the cultural world that formed these artists.