A little like the two sides in sporting derby matches, Sotheby's and Christie's rivalry and competition is long-standing and ingrained. Usually one finds though that for every great object or group in one sale, the other will have secured another consignment that offers a balance. However, from time to time the heavens align to bring together an auction where one house seems to hold the obvious aces.
Looking through the catalogue for the evening session of this auction (Christie's are the only one of the three houses that produce a separate physical catalogue for each of their sessions), it was easy to see lots which demonstrated the factors that will usually help bring a great result; fantastic quality examples of work by top line artists, coming fresh to the market and priced well. Add in those subsidiary facets of fine condition, great exhibition histories and interesting provenance, and it didn't take much imagination to see the pieces moving into place for some very exciting results on the evening of 25th June.
Comprising forty lots, the evening session started with a bang, the opener being a wonderfully subversive Peter Blake painting, Boys with New Ties, from 1955. Three schoolboys, hands in pockets, proudly display wonderfully garish painted ties of the most marvellously spivish patterns, yet they themselves are completely anonymous, cut off at the knees and mouth by the panoramic format of the painting. Essentially lost to view since Blake's 1983 Tate show, it's the kind of piece that comes up so rarely. Thus, despite its small size and an estimate of £250-350,000, considered by some to be a bit punchy, my feeling was that this could really start the evening very well indeed. And so it proved. Bidding roared away, easily passing the existing auction record for the artist to end at £550,000 (£662,500 with premium). Considering the 25th June was Sir Peter's 83rd birthday, this all seemed very appropriate, and was a very encouraging start to the auction.
Christie's had clearly made a conscious decision to pack the majority of the best pieces in the sale into the first half of proceedings, and as lot after lot came up, the sense of some real momentum and excitement in the room was very evident.
Lot 4 was by Eric Gill, a 40" tall carving of St.Joan of Arc in Caen stone. Passed by descent in the same family since the original purchase in 1936, this superb piece had the odd knock to the base from the passage of the years, but she is now over eighty years old, and still exhibits that incredible facility that Gill had to make a piece of stone come to life. Stand at the side of this sculpture for a few minutes and it's hard to believe that if you touched it, it wouldn't be cold, hard stone that you touched, but soft, yielding flesh. Pieces like this come to auction once or twice in every collector's active period and cannot be ignored. Temptingly, almost ridiculously, estimated at £300-500,000, I'd felt beforehand that I would very surprised if this piece did not get close to, or even surpass, the million pound mark.
By the time it reached a million pounds, with some determined bidding coming in from numerous places in the room, everyone was on tenterhooks. A new bidder came into the fray at £1,100,000, another new bidder joined via Christie's Philip Harley on the telephone and slowly, and with auctioneer Jussi Pylkkanen giving everyone ample, and nail-bitingly anxious, time to bid, the price slowly ground upwards to finally end at a hammer price of £1,900,000 (£2,210,500 with premium), a new auction record for Gill by a long way.
As a hubbub of chat engulfed the room, we were quickly whipped onwards by the next lot, Barbara Hepworth's cool and elegant Two Forms with White (Greek) of 1969. Featured on the cover of the catalogue, this piece was perfectly timed, the sale falling in the same week as the opening of Tate's major retrospective of the artist, and having been viewed alongside the Christie's Impressionist & Modern auction there was hope that it would have been able to capture the attention of the international clients.
Bidding was initially a little stilted, maybe as evidence of the oft-quoted reluctance of bidders to engage with a piece where a pre-sale guarantee has been negotiated by the auctioneer. However, it started to move along and with some determined action on the phones from Christie's staff urging their clients on, it eventually settled at a hammer price of £2,700,000 (£3,106,500 with premium).
A good sized piece and visually very attractive, it had the archetypal Hepworth qualities of balance and lightness, and the end price is very much in the upper level of auction results for her work. However, as was remarked to me by an experienced dealer at the sale, this result was marginally higher than the £2,600,000 (£3,061,000 with premium) achieved for the large and important Henry Moore Falling Warrior at Sotheby's Impressionist & Modern auction the previous evening. Whilst the Hepworth was a good piece, such a comparison might suggest that the price achieved was a very strong one.
And so the sale progressed, with strong result after strong result keeping the room on edge. Auctioneers always like to be able to market a private collection, and here Christie's were able to offer the collection of Edgar Astaire, a delightful and entertaining man whose collecting was a real passion. His enthusiasm for the early twentieth century in British art was deep, and he had assembled some very good pieces by David Bomberg, Augustus John and others, but he also owned some superb early works by Mark Gertler. Perhaps now a little overlooked, Gertler in the pre-WWI period was a fantastic artist, a Slade-trained East End boy risen from extremely humble beginnings to be part of the world of Bloomsbury and fashionable London. Astaire's collection of Gertler works included a captivating painting, The Violinist, of 1912, a head and shoulders portrait of a young girl with an extraordinary (for stuffy old Edwardian England) short and fluffy haircut. Austere in palette, yet so strong an image, this painting was as good an example of why Gertler was so highly rated in those years before WWI. Estimated at £3-500,000, this would be a major test of the market, as whilst virtually nothing of this quality by Gertler has come to market in the past ten, maybe twenty, years, his auction appearances are usually hard-pressed to get beyond £50,000. Nevertheless, strong bidding ensued on the phones and from a very determined bidder in the room, and the eventual hammer price of £450,000 (£542,500 with premium) absolutely trounced the previous auction record for his work of £72,000 with premium.
However, the next important piece by the artist, his 1912 portrait of fellow artist and lover Dora Carrington, was even more highly estimated at £4-600,000. Arguably of greater academic importance than The Violinist, it was a much less successful painting, lacking the intensity and aura of that painting. The reception in the room was subdued, and it failed to attract any bidding.
Gertler's Slade contemporary and fellow East Ender David Bomberg was also represented in Astaire's collection, and the choice piece here was a small but exquisite painting, Pool of Hezekiah, Jerusalem, from 1925. The rendering of the effects of sun and shade over the intricate network of roofs of the ancient city almost made the picture feel as though it was radiating heat, and with a very tempting estimate of £80-120,000 it looked certain to do well. Strong bidding from the outset saw it carried up to a hammer price of £300,000 (£362,500 with premium), a substantial figure for a picture measuring just 10 x 13" but whose quality was superb.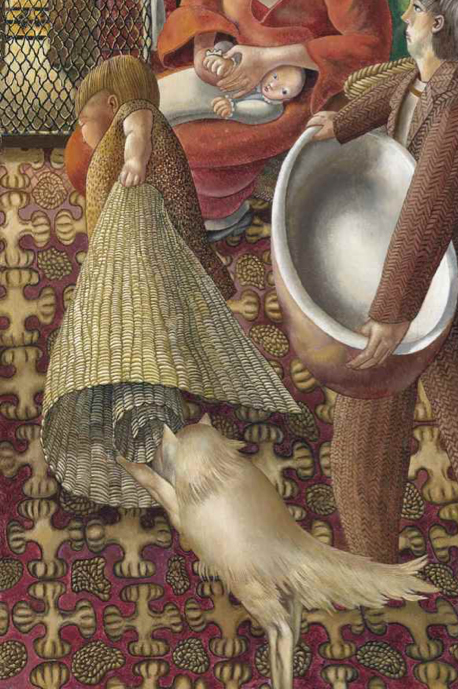 By now we were almost half way through the evening session and with Stanley Spencer's Hilda and I at Burghclere more than doubling its pre-sale estimate to reach a hammer price of £2,550,000 (£2,938,500 with premium), the results so far had been extremely successful.
However, with a couple of lots failing to sell, and the group of works by L.S.Lowry achieving solid but not exceptional prices, one wondered if the frenzy of the first half of the sale was beginning to subside. Ben Nicholson's 1945(off green) was a surprising failure at £7-900,000, as was a very vibrant Patrick Heron painting, Red Verticals: March 1957 at £4-600,000, and as the next few lots unfolded it was clear that the party was winding down. Good pieces were selling, but within estimate, and suddenly it was feeling more like a normal Modern British auction.
The overall total for the evening session, with premium, was £18,973,000, an extremely good result and almost triple the total achieved by Sotheby's whole auction. The clear message was that the market in its current mindset is completely geared around fighting for the very best and rarest, and those pieces that Christie's had secured, such as the Gill and the Blake, which satisfied that hunger were the ones that performed best. The failures in the sale were generally either pieces that were perceived to have been in the marketplace too recently, or were ambitiously priced for their qualities.
As ever, we saw how success in the battle between the houses in these auctions rests on the shoulders of a handful of high potential lots which have the ability to lift your total well above your competitors. However, for the specialists in this field there is a further battle, and that is with your own colleagues. Increasingly, works by the high profile British artists cross over into the Impressionist & Modern and Contemporary auctions, and this season was no different. In my next missive, I'll look at how they fared.