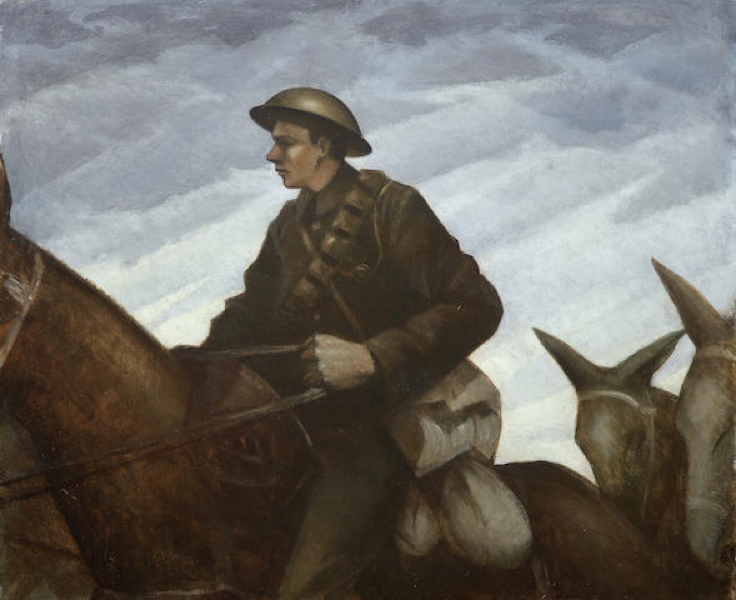 Putting an auction catalogue together can be a tricky business, and I suspect that for this sale the Bonham's specialists found themselves with a frequent conundrum. If your most expensive and important object is not perhaps the most arresting image, do you put it on the cover? Sometimes offering such a placement can be the piece that clinches the deal, and whilst the Bonham's cover lot was an undeniably important work, at the side of the jollity of the Sotheby's Lowry image and the purity of the Christie's Hepworth cover, their detail of the 1917-18 Nevinson painting, Mule Team, was always going to look a little austere.
Overall the catalogue was well-presented, and Bonham's apparent facility to give quite low value lots a decent amount of page space and a good-size image is very heartening to those who, like me, believe that the presentation of an object should not be completely dictated by value. With 91 lots, the sale felt a good deal smaller than the corresponding offerings from Sotheby's and Christie's, so totals were always going to be smaller but once the sale got underway, it was apparent that the sold rate was high (80% by both lot and value) and that prices were solid.
Over the years the houses have all made subtle, or not so subtle, shifts in the definition of what the art world habitually calls 'Modern British' and thus what the sales contain. Bonham's have stuck fairly closely to the original formula, inherited from the tried and tested sales forged in the 70s and 80s, with the exception of letting the very earliest works, the Newlyn School et al, find a new home with the Victorians. Apart from one recent exception, they have also resisted the example of Christie's and Sotheby's to split the auction into two sessions, preferring to keep it as a single unit.
This auction therefore contained some interesting contrasts of both value and style, and thus offered collectors a really wide selection of pieces. The sale opened with a group of eight lots by Keith Vaughan, including paintings, works on paper and drawings, and whilst it can sometimes overwhelm your market a little to offer so many by a single artist at one stroke, Vaughan has a strong buyer base and it clearly held up here with all eight selling, and mostly within estimate for a total of £190,000, including premium.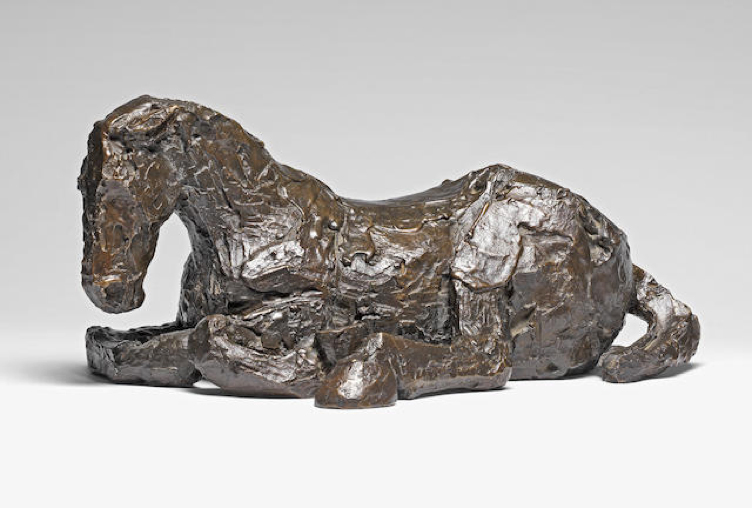 Bonham's have made themselves a strong presence in the market for some artists, and as with Vaughan, they were able to offer eight pieces by Ivon Hitchens, someone whose work has become a strong part of their sale roster. Together the eight Hitchens paintings sold for a hammer total of £229,750, including premium, which must be considered quite an achievement. Elisabeth Frink has been a similar success story for the Bonham's team, and this sale carried that on, with a nice group of her sculptures bringing some great prices. Although they didn't get the 100% sold rate they achieved with their Hitchens and Vaughan groups, they did bring in some very healthy prices, topped by £170,500, including premium, for a sculpture from a very popular series, Horse in the Rain V.
At the beginning of this piece I mentioned the cover image, Christopher Nevinson's Mule Team. Nevinson's reputation was, and still is, built almost entirely on his powerful paintings and prints of the Western Front during WWI. Many of these are now in public collections, and thus for a WWI period oil painting to appear at auction is quite an event. In fact, I'm sure that we might even be looking back as far as 1996 and La Guerre des Trous, sold at Phillips, for a comparable example. The painting had been in the same family since at least 1952 and although it had been loaned to an exhibition at Browse & Darby in 2011, it had not been for sale in living memory of most of the London art trade. Thus we might expect a surge of excitement and potential bidders.
However, no matter how good a catalogue illustration is, it can never replace actually standing in front of a painting and seeing just how it really looks. For all the strength of the image, and in spite of a condition report from a very highly respected restorer that the painting was sound despite having been rather unsympathetically laid onto a board at some point in the past, the first hand experience of looking at what should be a major example of the work of an artist who perhaps, alongside Paul Nash, best captured the mud-spattered reality of the Western Front, was disappointing. Being laid onto board seems somehow to have flattened the paint surface and deadened it and although the Vorticist-influenced sky behind the mule team driver throws the whole into dramatic relief in illustration, at first hand it lacked the punch that Nevinson's work should have. Much talked about before the auction, it was one of the few pieces to fail in this Bonham's sale, but of course as the cover lot and the highest priced piece in the auction, estimated at £250-350,000, its failure to find a buyer will have taken the lustre off a generally successful day.
Paul Nash was represented in the sale by three works on paper, of which two, Walk of 1932 and Chestnut Waters of 1922 were really super examples, brimming with the complexity of invention, composition and mood with which his best works are infused. Estimated at £10-15,000 and £15-20,000 respectively, these two desirable pieces sold well for £35,000 and £57,500, including premium.
Another painter whose romantic visions of England, both urban and rural, evoke a past world is Algernon Newton. Relatively overlooked until a fascinating exhibition in 2012 at Daniel Katz Gallery, his prices have really begun to shift, and the example offered by Bonham's looked certain to attract good attention. Relatively large, and showing a pastoral view across Hampstead Heath down towards London, it was heavily redolent of the eighteenth century, indeed at first glance it could almost have been an eighteenth century work. Estimated at £15-20,000, it saw very strong competition carrying it all the way to a new auction record for the artist at £128,500.
The Bonham's team must also have been very pleased with the £134,500 achieved for Lynn Chadwick's Sitting Couple II, a work from 1980, and a price perhaps reflecting the shift in presentation of Chadwick's work since the recent move by the artist's estate from the mostly Modern British-flavoured Osborne Samuel gallery to the more contemporary slanted Blain|Southern. An undoubted star of the renaissance of British sculpture in the 1950s and 1960s, Chadwick is a sculptor whose best work can hold its own with any of his contemporaries, and is currently being shown in Florence's Boboli Gardens, a fitting backdrop for a fine artist.
Overall, the auction totalled £2,226,000 with premium, with a very healthy sold rate of 80%.